Machine Shop

in Lexington, OR
When it comes to heavy equipment repair, welding and machining come with the territory. At Bailey Heavy Equipment Repair, Inc., we employ accomplished welders and machinists who are capable of providing a full complement of fabrication and repair services at our machine shop in Lexington, OR. We also offer mobile welding services, for those customers with heavy machinery that's too difficult or too expensive to transport.
Call Now
Weeder Parts
Short Bushings – $49/pair + install
New Rebuild on wheel (Hubs, spokes & bushings) – $455.00 ea.
New Complete Drive Wheel – $635.00 ea.
New Trail Wheel – $377.00 ea.
Trail Wheel Rebuild – $235.00 ea.(solid shaft 1″ + bearing conversion)
New 9' Square Axle – $377.00 ea.
Axle Flange – $120.00 ea.
New Round Axle – $377.00 ea.
Rear Wheel Pivot Conversion – $145.00 ea.
Corner brackets – $110.00 ea
Weld on replacement axle ends – $90.00 ea.
Train wheel yokes – 110.00 ea.
Axle Hangers – $87.00 ea.
International, John Deere & Calkins Two chain drive system – $806 ea.
Original Intl & John Deere Gear Box – $429.00
1″ square weeder rods -$24.00 per ft.
1″ square weeder lock collar -$25.00 per ft.
Gooseneck points – $52.00 ea.
Axle Drive Sockets – $52.00
Calkins & John Deere Idler Sprockets – $104.00 ea.
Calkins Hydraulic lift cylinder conversion – &325.00 ea.
Square Axle Bearings – $70.00
Flange, Greased – $23.00
Flange Plain – $19.50
2050 Drive Chain – $10.50/ft
Weeder Drive Collar – $90.00 ea.
Heavy Gooseneck – $150.00
IH 2388 Combine Wheel Center – $200.00 ea.
These prices are subject to change depending on prices of bearings and steel. Please call for updated pricing
Machine Shop Capabilities
When you need machining for heavy equipment, you want to work with a machine shop that's staffed by experts who have access to a full scope of equipment. Bailey Heavy Equipment Repair, Inc. takes pride in both our tenured staff of experienced machinists and welders, and we've outfitted our shop with everything needed to perform any and all welding and machining services you could need.
Hydraulics maintenance and repair
Mechanical maintenance and repair
Structural (frame) maintenance and repair
Welding parts/repair
Machining parts/repair
Mobile On-Site Welding
Many of our customers can't bring their equipment to us for welding, so we offer mobile welding services throughout Lexington, John Day, Pendleton, The Dalles, LaGrande, and Hermiston, OR—and even clients as far as Pasco and Kennewick, WA. We'll come to your worksite or area of operation, to provide custom welding repairs for commercial, agricultural, logging vehicles and any other heavy equipment in need of repair.
Need emergency welding or custom machining? We offer emergency services to help get mission-critical services up and running again as quickly as possible.
Call Now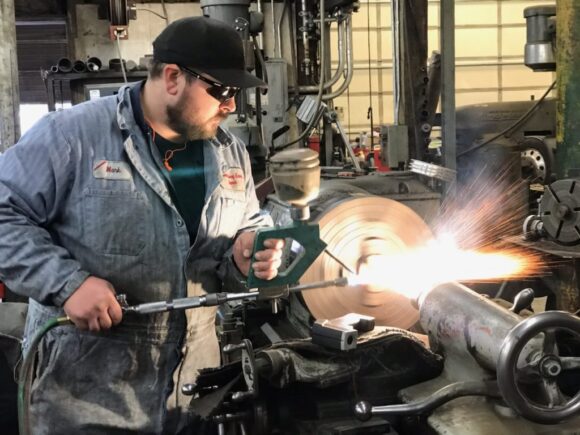 See the Quality of Our Work Firsthand
Welding and machining are part of the core services we offer at Bailey Heavy Equipment Repair, Inc. We know how important they are to the integrity of the equipment we work on and we take pride in delivering lasting, reliable results for our customers. For more information about our capabilities or to discuss your need for a machine shop, contact us today at 541-989-8505.